ALSOP SERVICE | CHEVY SERVICE CENTER IN ROCKVILLE, IN
Welcome to the Mike Alsop Chevrolet Service Center!
At Mike Alsop Chevrolet Rockville, our team is committed to ensuring your service experience is carefree. You can schedule online, call, or walk-in. Choosing Alsop Chevrolet Service grants you access to our ASE & GM certified technicians, modern and up to date servicing equipment, our comfortable waiting area with complimentary refreshments and snacks, and best of all- peace of mind. Your safety on the road is most important to us, and your vehicle is in good hands with our experienced and professional staff.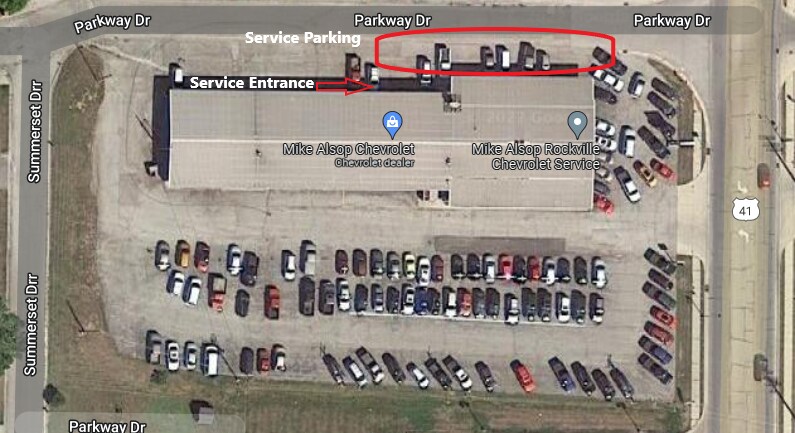 Maintenance
Get Professional Chevrolet Service to Keep Your Car Running Smoothly at Mike Aslop Chevrolet
Few things are more exciting than purchasing and driving a new Chevrolet in Rockville. Whether you own a car, truck, crossover, or SUV, you can keep it looking and performing just like it did on the day you bought it when you schedule auto service at our Rockville Chevrolet dealership. We don't just service Chevrolet cars, trucks, and SUVs, though. Our service center in Rockville  works hard to provide exceptional service, no matter what brand of car you drive. Our Chevrolet service will help you stay on top of manufacturer-recommended maintenance, minimize lasting wear, and confidently drive.
We've Got Your Model Covered for Tire, Wheel, and Brake Service
Keeping your tires, wheels, and brakes in excellent condition is a great way to limit your spending at the pump. However, these services will improve your vehicle's fuel economy and give you the benefit of better traction, handling, and control. When you visit us, we'll:
Swap out your worn brake pads or brake shoes
Top off your brake fluid
Rotate, balance, and correctly pressurize your tires
Test and refine your vehicle's wheel alignment
We offer an expansive range of economy, performance, off-road, all-terrain, and season-specific tires. Whether you need tire swap services in winter or spring, tire change-out service, or a new, full-size spare, come see us to get service with a smile.
Battery Inspection and Maintenance Service
Many drivers make the mistake of neglecting their auto batteries. Although relatively low in cost, these components are critical. Without a functional battery, you could find yourself stranded. Our battery testing and maintenance services at our dealership make it easy to track the life and overall health of batteries. We'll:
Measure your battery's current charge
Assess its ability to hold a charge
Check for and remove all corrosion
Clean the battery table, posts, and connections
If you need a new battery put in, we'll choose the right one for the Chevrolet model you own and install it to manufacturer specifications.
Oil Change and Fluid Top-Off Services
Most models should have their oil changed about once every 3,000 to 5,000 miles. As your vehicle ages, you may need to schedule oil changes more frequently. Fortunately, our team can give your vehicle the needs-specific care it deserves. We're staffed by mechanics who understand the nuances and requirements of all models across many years of manufacture.
When you stop by our dealership for an oil change service, we'll:
Drain your old engine oil
Remove and replace your engine oil filter
Discuss your preferences and needs for replacement engine oil
Refill your engine oil
Check and top off all other automotive fluids
This is also a great time to take care of engine air filter and cabin air filter changes as well.
Get Tune-up Service
Staying on top of regular tune-ups can extend your auto's lifespan and all its systems and components. These manufacturer-recommended services allow us to identify and correct developing problems early on. When you see us for a tune-up, you'll get genuine Chevrolet parts, timely replacement of all worn belts and hoses, leak check service, and more. We can also send you reminders of upcoming service needs so that you're always updated on your basic auto maintenance.
Come See Us for Urgent Repairs
We're also here for you when things go awry. Our extensive knowledge of automobiles and state-of-the-art equipment will help you get back on Rockville roads fast. You can count on us for competitive pricing, lasting results, and all the information you need to make informed decisions about your vehicle.
Check Out Our Specials and Schedule Service Online
We've got special discounts available to help our clients save money on essential services. With these deals, you can stay on top of manufacturer-recommended maintenance without breaking the bank. To start giving your Chevrolet car or other kinds of vehicle the knowledgeable, professional care it deserves, schedule an appointment for service at our dealership today! Contact us online or over the phone to arrange your appointment. 
Need New Tires?
Your vehicle's tires are the first and only contact with the road, so it is important to choose the right set when replacing them. Mike Alsop Chevrolet Rockville has Certified Service experts that will handle all of your tire needs. From checking tire wear to tire pressure, our team can also help you find new tires for your vehicle.
Need an Oil Change Near Rockville, IN?
Driving around with dirty oil - or not enough oil - can shorten the life of your engine. Our Certified Service experts can change your oil quickly. Schedule an appointment today.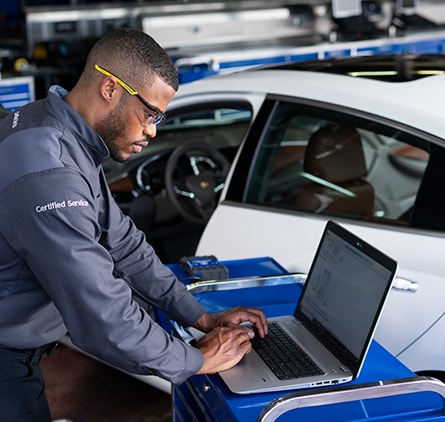 Multi-Point Vehicle Inspection
With your Multi-Point Vehicle Inspection, you get a thorough assessment of your vehicle by the Certified Service experts. So protect yourself and your automotive investment with a comprehensive vehicle inspection at your Mike Alsop Rockville Chevrolet today.
Download the GM Multi-Point Vehicle Inspection Sheet
The Multi-Point Vehicle Inspection form uses a simple color-coded key to assess maintenance terms:
Red indicates items that need immediate attention.
Yellow indicates items that should be addressed in the near future.
Green indicates no items to address.
Hearing Brake Noise?
Stopping power is crucial to a safe and successful driving experience. When you need Chevrolet brake service, visit Mike Alsop Chevrolet and the Chevrolet Certified Service experts can recommend quality new brakes.
Battery Trouble?
Your vehicle's battery provides energy to start the engine, plus it supplies power to accessories when the engine is not running. The cold of winter and the heat of summer can affect your auto battery. See us for your vehicle's battery needs.
Hours
Monday

8:00 am - 5:00 pm

Tuesday

8:00 am - 5:00 pm

Wednesday

8:00 am - 5:00 pm

Thursday

8:00 am - 5:00 pm

Friday

8:00 am - 5:00 pm

Saturday

8:00 am - 12:00 pm

Sunday

Closed